The 2023 Day of Assessment with the theme, "Authenticity and Improvement: Reimagining Assessment in a Changing Landscape" was brought to you by the generous sponsorship of HelioCampus.
Thank you to everyone who participated!
DATE: Thursday, March 30, 2023, 1:00 p.m. pre-conference session; 1:30 to 4:00 p.m. conference
Location: Zoom virtual platform
Pre-Conference Session:
1:00 p.m. 8 Approaches to Transform Your Self Study into Meaningful Reflection
Session Presenter: Suzanne Carbonaro, Director of Academic Partnerships, HelioCampus
Your self study is a requirement, but it's also the perfect opportunity for meaningful reflection that can serve you before and after an accreditor comes knocking at your door. Learn more about trends and approaches to assessment and planning that yield sustainable practices to support your reporting needs and beyond.
Conference Schedule:
1:30 p.m. Opening Presentation
Panel Discussion: "Assessment and Continuous Improvement: We're Doing Everything Right, but Are We Doing the Right Things?"
Panelists: Linda Amerigo, Accreditation and Assessment Manager, School of Education, The College of New Jersey and Nora Hyland, Associate Dean & Faculty Director of Teacher Education, Graduate School of Education, Rutgers University – New Brunswick
In the changing landscape of assessment for continuous improvement, this panel discusses the data, assessments and analyses that most effectively can lead to improvement.
2:20 p.m. Concurrent Presentations
The Clinical Competency Inventory: A Valid Performance Assessment Instrument
Session Presenters: Vicki Cohen, Director, Academic Sustainability Initiatives, Fairleigh Dickinson University, Karen Grove, Director of Student Placement and Clinical Experiences, College of Education, Kean University, and Ana Maria Schuhmann, Dean Emerita, Kean University
This session will present the latest version of the Clinical Competency Inventory (CCI). It will discuss the development of the instrument, its validity, training and implementation. It will cover the benefits of using the CCI including data collection and analysis, program decision-making, disaggregation of data, and accreditation, as well as the benefits to the clinical intern throughout clinical practice. It will also describe the New Jersey Teacher Assessment Consortium (NJTAC), the consortium of EPPs that use the CCI and meet regularly to discuss, revise and monitor the CCI's use as an instrument that reflects current professional standards and values.
How to Organize and Facilitate Focus Groups
Session Presenters: Erin Bunger Johnson, Associate Director, Center for Research and Evaluation on Education and Human Services (CREEHS), College of Education and Human Services, Montclair State University and Heather Kugelmass, Senior Research Associate, Center for Research and Evaluation on Education and Human Services (CREEHS), College of Education and Human Services, Montclair State University
This session will provide an overview of how to conduct a focus group in your work. It will provide a high-level picture of when focus groups might be useful, an outline of the steps to plan for and conduct a focus group, and provide some tips, tricks and resources to conduct your own focus group.
3:10 p.m. Closing Presentation
Performance-Based Assessments when edTPA is No Longer Required: Alternatives and Lessons Learned
Session Presenters: Charity Dacey, Associate Dean of Academic Affairs, Touro University Graduate School of Education and Jacob Easley II, Special Assistant Provost for New Initiatives, Touro University
This session will discuss how EPPs address the development and use of culminating performance-based assessment in light of edTPA removal in NJ and the region as a certification requirement.
---
Thank you to our 2023 Sponsor, HelioCampus!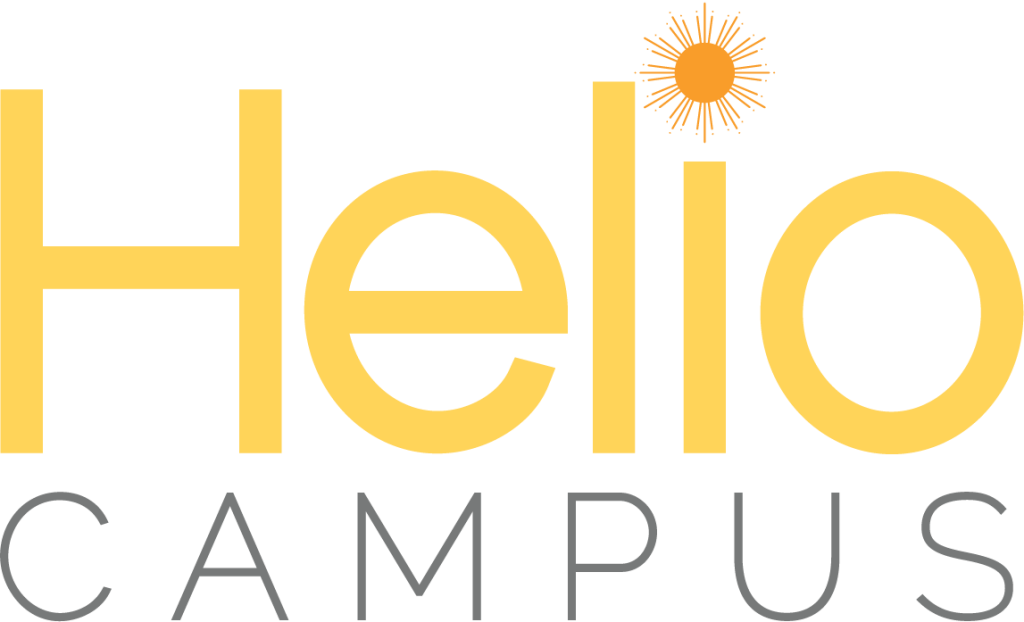 With data from every corner of campus, HelioCampus helps institutions achieve their mission in a measurable and sustainable way. Through assessment, benchmarking and decision support, we help institutions measure and evaluate their effectiveness and impact by connecting investments with both financial and student learning outcomes. Born out of higher education, our roots within the University System of Maryland and University of North Carolina, Chapel Hill inform our strategy and approach.
---
About the Conference:
The NJACTE Day of Assessment Conference is part of our overall efforts to increase chapter engagement providing a valuable opportunity for faculty, staff, administrators, and students to come together and learn from each other on various aspects of assessment in educator preparation. The Day of Assessment began as an in-person event, and in recent years it has shifted to a virtual format that has enabled participation from a wider geographic area across the mid-Atlantic region. NJACTE welcomes attendees from all states to join in the networking, collaboration, and shared learning. Each year the conference features a keynote or panel discussion, followed by concurrent presentations by our members and other colleagues in the field.
Organized by the 2023 NJACTE Day of Assessment Planning Committee:
Co-Chairs: Jason Barr, Rider University and Amy Kline, Seton Hall University
Committee Members:
Karen Fasanella, Saint Elizabeth University
Melissa Freedman, Rutgers – New Brunswick
Melissa Harris, Montclair State University
Mary McGriff, New Jersey City University
Ana Maria Schuhmann, retired